Group Classes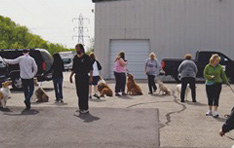 We offer practical obedience classes– which means information you can use in everyday life!
In these classes, we are not concerned so much about a perfect sit like you would see in a show ring. We are more concerned about teaching you how to have control over your dog so you can enjoy him take him with you places and have him behave.
We are concerned about his state of mind, not just a static function. Control and obedience are not the same things! Your dog may know 100 tricks but if he doesn't come when you call him then what good are those tricks?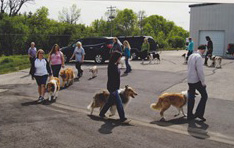 Our Group classes are based on teaching your dog a foundation of communication that he can learn and then utilize in all other areas of his training. Group classes are great for socializing your dog and training with distractions, especially if your dog has an "issue" around other dogs!
The only way to get your dog over having issues with other dogs is to get him around other dogs! Sounds simple enough just not always easy and a bit scary if you are unsure how to handle the situation!  The same holds true if your dog is fearful of strangers or aggressive towards people.
The only way he will learn is to get around more people!