Dog Trainer and Published Author - Frank M. Allison III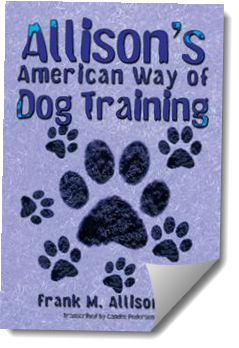 Does your dog pull your shoulder out of socket when you're going for a walk?  Are you afraid to let friends in your house for fear your dog will jump all over them?  Do you just want your dog to learn some simple foundation commands?
This is the book for you!  Frank Allison has been a professional dog trainer for over 25 years and has based his training techniques on dog to dog communication.  He has lived with a pack of dogs for over a decade and through detailed observation has found a way a human can communicate with a canine and be understood.  This is a complete detailed learning experience from puppyhood to foundation commands and everyday life problems.
"Imagine in your mind trying to explain dog to dog communication to a blind person.  How would you describe how one dog is communicating to another?  I see two individuals that read each other's body language upon approach using audio signals, body posturing and physical stimulation.
After all my years of training I have yet to see one dog give another dog a treat to get it to do something.  Until I do, I stand by my methods."