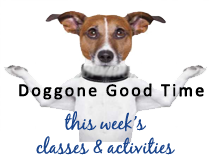 A Friendly Reminder .
You must be a Rock's customer to participate in group class, activities/events or workshops.  
To be a Rock's customer you must have had at least one private lesson with Frank or Dana.  
Not a Rock's customer yet??... We would love to have you join our Rock's family! Please call the office  at 262 662- 4160 and find out more about our training,  and how you can start enjoying  your dog even more!  
Thanks to everyone who beared the heat last Saturday for our Activity day in Minooka park! Great turnout and great work done by all! 
NEXT WORKSHOP JULY 18TH 
How to properly use  food in training. 
Please See your Rocks' notes for details
June 25th We will be at Downer Hardware from 10-12 for the Americas dairyland bicycle races Bring your dog for some good real life training experiences. For more info on the race check out the link on your weekly rocks notes email
Reminder if you would like a Rock's logo shirt please get up your shirts by Mon June 27th
*****Congrats to our latest graduates of Canine Good Citizen  and CNW 1,2 & 3!! 
Private Puppy 1 and group Puppy  classes  are currently full please check back later for openings.
Congrats to our latest graduates!
 If you havent already done so please check out Rocks
Go fund me campaign to help his rescue dogs.
THANK YOU so much to those who have already donated!!!
 https://www.gofundme.com/gh3mrqa8#  
Come on out Thursday Evenings
for  Obedience & Control work 
Pet Supplies N' More
Muskego - 6:30pm - 7:30pm
Join us Every Sunday 
for Obedience & Control work.
at Pet Supplies N' More
in Muskego - from 11:00am-12:00pm             (then from 12-12:30
(for doggie socializing- this is optional)
Obedience & Control work 
6:30pm - 7:30pm
Tractor Supply Company in Mukwonago
Thanks to everyone who beared the heat last Saturday for our Activity day in Minooka park! Great turnout and great work done by all!
Private & Group Puppy classes are currently full. 
Nose work 1,2 & 3  in progress ...
fyi - You must have completed CNW1 to participate in 2 & 3 . If  you have already attended CNW1 Please contact the office for dates and times for future class times and dates or if you are new to Nosework please call for information on what  this fun Nosse stuff is all about! 
Training Your Dog to Live Safely, Calmly
and Peacefully in YOUR World
Rock's is a humane canine training facility where practical obedience is highlighted for good behavior during every day life experiences.

Training foundation commands is essential for all dogs.  Our emphasis is not only training these commands but using them in the context of your life.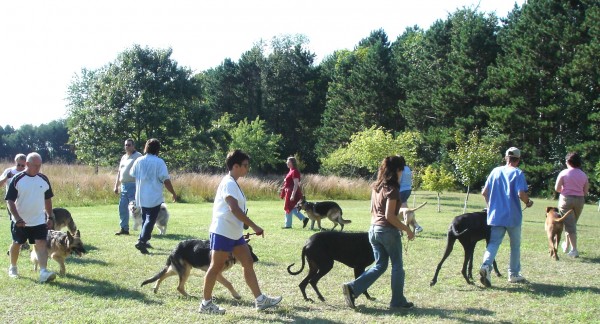 Poor canine greeting manners, counter surfing, taking comfortable walks with your dog, meeting new dogs, chewing, and everything else canine owners experience while raising and living with their companions are addressed when training with Rock's.
Rock's specializes in behavior problems involving aggressive or anti-social canine issues. Our trainer, Frank M. Allison III, has had decades of experience with the badly behaved dog.  Rock's Positive K-9 Training offers private dog training and group dog lessons to accommodate your schedule.  Our  private training sessions can be customized to your needs.

We are open everyday, early morning through evenings by appointment.  We also train personal protection dogs and service dogs and offer various working seminars to groups.

It is our goal to train the dog owner as well as the canine. We strive to educate people in the proper ways to communicate, care and handle their pets so they may both live a more fulfilling and happy life together.